Lisa Sabin-Wilson Launch a WordPress.com Blog In A Day For Dummies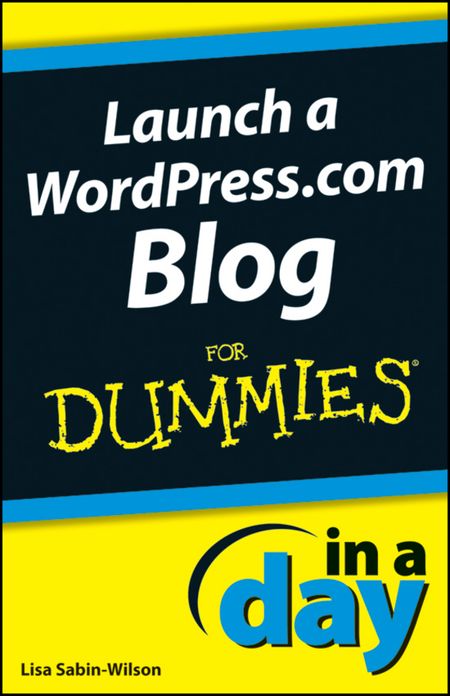 Let this 96-page e-book show you the quick and easy way to launch your blog WordPress is among the most popular blogging platforms. If you're ready to start your WordPress blog, this handy e-book will get you going. It gets right to the point, showing you how to create a WordPress.com account, navigate WordPress.com and use the Dashboard, customize blog settings, use themes, organize your blog, and dress it up with widgets and upgrades. A special link to dummies.com provides additional information, including video tutorials that boost your blog IQ. Read it today and have your blog up and running tomorrow! This highly focused e-book gives you the straight line on setting up a blog using WordPress.com Walks you through creating your account, navigating WordPress.com and using the Dashboard, choosing a theme for your blog, customizing settings, and organizing your blog by categories Provides further materials, including video tutorials on establishing settings and privacy controls, plus step-by-step instructions for setting up your blog Launch a WordPress.com Blog In A Day For Dummies is the quick and easy way to join the blogosphere with WordPress.com.
/ / похожие
Подробнее
Lisa Sabin-Wilson WordPress Web Design For Dummies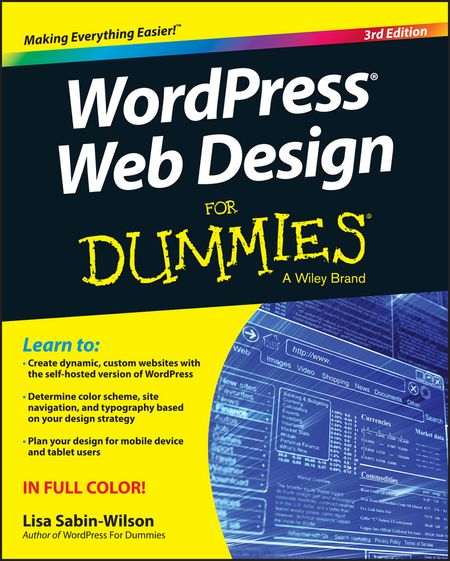 Your full-color guide to creating dynamic websites with WordPress Are you familiar with the fundamentals of WordPress, but want to take your skills to the next level? From bestselling author and WordPress expert Lisa Sabin-Wilson, this new edition of WordPress Web Design For Dummies quickly gets you up to speed on the latest release of the software and shows you how to use it as a tool to create a customized, compelling, and cost-effective website—without losing your cool. WordPress can be used to create a custom design for your website using complimentary technologies such as graphic design, CSS, HTML coding, PHP programming, and MySQL administration. With the help of this hands-on, friendly guide, you'll discover how to create an effective navigation system, choose the right color palette and fonts, and select different layouts. Plus, you'll find out how to tweak existing website designs with available themes, both free and premium, and gain the confidence to translate your design skills into paid work. Create dynamic, custom websites with the self-hosted version of WordPress Use free themes and enhance them with CSS and HTML Create a responsive design for mobile devices and tablet users Get to grips with the newest release of WordPress Whether you want to use WordPress to spruce up your existing website or create a brand-new one from scratch, this do-it-yourself guide has you covered.
/ / похожие
Подробнее
Lisa Sabin-Wilson WordPress All-in-One For Dummies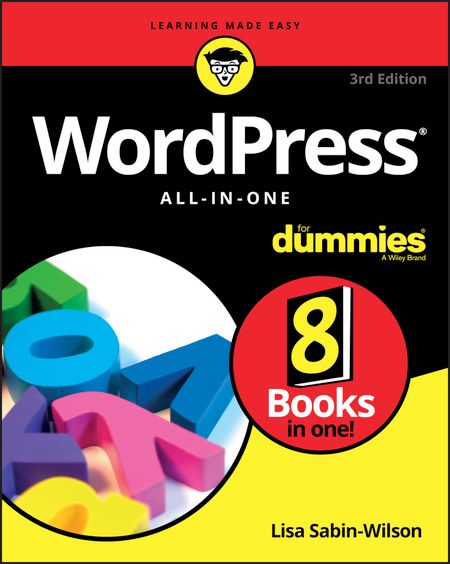 Everything you need to know about WordPress If you strive to have a blog that suits your needs, delights your readers, and keeps visitors coming back for more, this book is your ace in the hole! Offering you cream-of-the-crop guidance from eight bestselling books, WordPress All-in-One For Dummies is the only reference you need to get a handle on blogging basics, use SEO and social media tricks to drive traffic to your site, customize your blog with plugins and themes, and so much more. WordPress powers more than 25% of the web—and for good reason. It's a state-of-the-art blog-publishing platform that makes your site look professional, lets it be searchable, and provides readers with a pleasant user experience. Whether you're just dreaming up your first blog or want to learn to use the latest version of the software to keep your site up to date, WordPress All-in-One For Dummies is the way to go! Build your site foundation and become an admin pro Personalize your site with themes and plugins Use SEO and social media to extend your site Read and understand site analytics WordPress is free—and with a bit of help from this how-to guide, it can also be easy!
/ / похожие
Подробнее
Lisa Sabin-Wilson WordPress For Dummies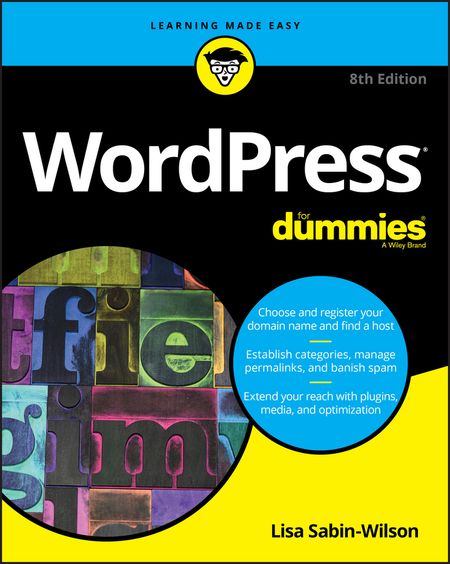 The bestselling guide to WordPress—fully updated Updated to capture all the changes expected to come with the latest release of WordPress, the brand-new edition of this bestselling guide gives you an all-access pass to using this powerful publishing platform to get your very own blog or website up and running—in no time. In WordPress For Dummies, you'll find out how to choose and customize a theme, pick the perfect web host, manage multiple websites with multiple authors, and tons more. Due in large part to its state-of-the-art features, WordPress has become the go-to platform for website owners and bloggers who want to be noticed. Whether you're new to the web/blogging community or want to maximize your site, this hands-on guide is packed with everything you need to navigate the wonderful world of WordPress—and ensure the fruit of your labors gets the attention and traffic it deserves. Get set up with a new WordPress.org account Leverage the power of WordPress as a CMS tool Forget one website—manage as many as you want Optimize aesthetics, web standards, and usability Not a WordPress guru? No worries! Everything you need to become a pro is a page—and a click—away!
/ / похожие
Подробнее
Lisa Sabin-Wilson BuddyPress For Dummies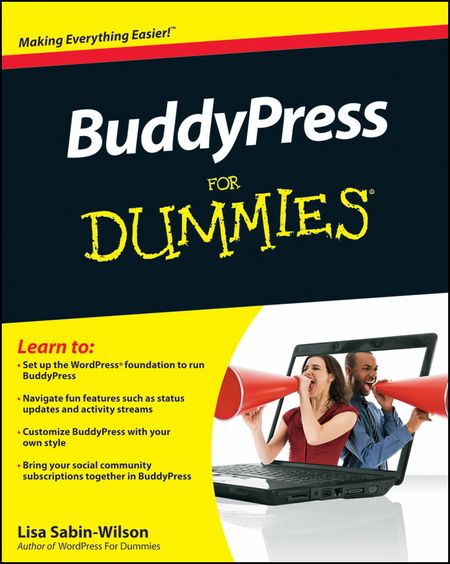 Use BuddyPress to create the ultimate site experience BuddyPress is a suite of free WordPress plugins and themes, each adding a distinct new feature. It contains all the features you would expect from WordPress, but it aims to let members socially interact. With this fun and friendly guide, you'll learn how to customize BuddyPress so that it matches the style of your Web site. You'll walk through the necessary steps for modifying and customizing BuddyPress themes and you'll discover how to extend BuddyPress through the use of addons and plugins. With BuddyPress, you'll be well on your way to creating the ultimate user experience on your site. Shows you how to set up the WordPress foundation required to run BuddyPress Walks you through installing BuddyPress on a WordPress-powered site Explains the different BuddyPress components, including extended profiles, private messaging, friends, groups, the wire, activity streams, blog tracking, status updates, and more Details ways to troubleshoot BuddyPress once it is up and running Demonstrates how to extend BuddyPress through the use of addons and plugins Bring all your social community subscriptions together in BuddyPress!
/ / похожие
Подробнее
Aaron Brazell WordPress Bible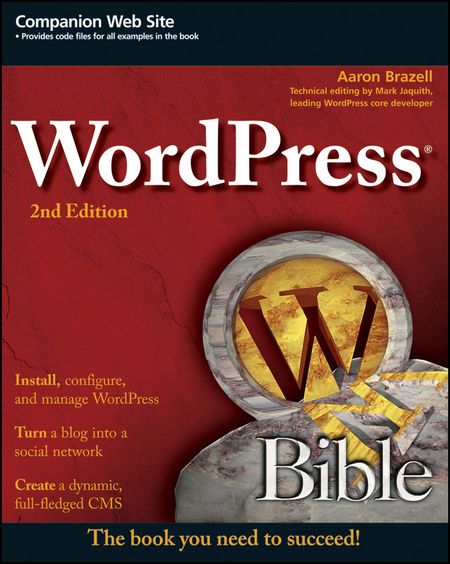 Get the latest word on the biggest self-hosted blogging tool on the market Within a week of the announcement of WordPress 3.0, it had been downloaded over a million times. Now you can get on the bandwagon of this popular open-source blogging tool with WordPress Bible, 2nd Edition. Whether you're a casual blogger or programming pro, this comprehensive guide covers the latest version of WordPress, from the basics through advanced application development. If you want to thoroughly learn WordPress, this is the book you need to succeed. Explores the principles of blogging, marketing, and social media interaction Shows you how to install and maintain WordPress Thoroughly covers WordPress basics, then ramps up to advanced topics Guides you through best security practices as both a user and a developer Helps you enhance your blog?s findability in major search engines and create customizable and dynamic themes Author maintains a high-profile blog in the WordPress community, Technosailor.com Tech edited by Mark Jaquith, one of the lead developers of WordPress The WordPress Bible is the only resource you need to learn WordPress from beginning to end.
/ / похожие
Подробнее
George Plumley Teach Yourself VISUALLY WordPress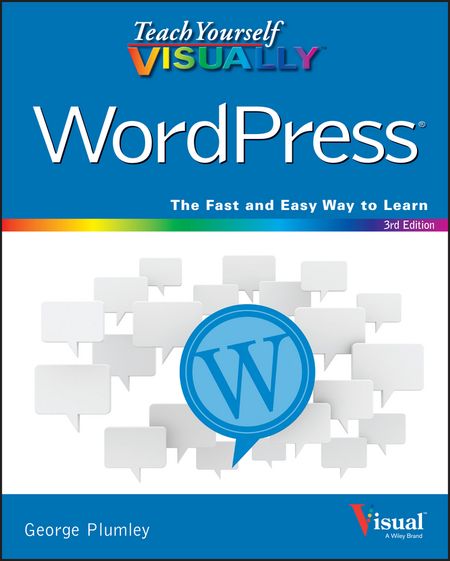 Clear the «blog fog» with this complete visual guide to the WordPress platform Teach Yourself VISUALLY WordPress, 3rd Edition introduces you to the exciting possibilities of one of the world's most popular blogging platforms, and shows you how to build your blog from idea to execution. This edition has been updated to reflect the changes and new features of WordPress, and includes coverage of mobile blogging solutions that allow you to post on the go. Richly illustrated with screenshots and examples from the author's own WordPress blogs, this highly visual guide walks you through the setup and creation process step by step, and offers expert tips and tricks every step of the way. From installing WordPress and choosing a theme to custom site editing and self-hosting, this book provides the answers you need and helps you get organized and published quickly. This is your essential guide to getting the most out of WordPress, from basic setup to advanced mobile features. Customize your site with plug-ins, themes, and personalized editing Blog whenever, wherever, with mobile blogging solutions Buy your domain, choose a hosting service, and set up the admin stuff Learn the best practices that result in engaging, dynamic websites Whether you're promoting a business, building a personal brand, or just have something to say, this is your no-nonsense guide to building your blog.
/ / похожие
Подробнее
Brad Williams Professional WordPress. Design and Development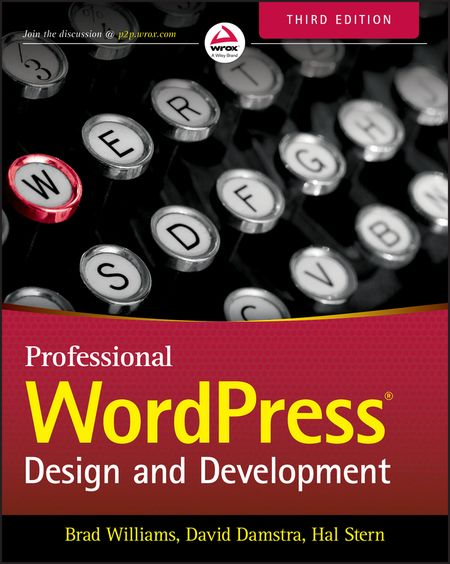 The highest rated WordPress development and design book on the market is back with an all new third edition. Professional WordPress is the only WordPress book targeted to developers, with advanced content that exploits the full functionality of the most popular CMS in the world. Fully updated to align with WordPress 4.1, this edition has updated examples with all new screenshots, and full exploration of additional tasks made possible by the latest tools and features. You will gain insight into real projects that currently use WordPress as an application framework, as well as the basic usage and functionality of the system from a developer's perspective. The book's key features include detailed information and real-world examples that illustrate the concepts and techniques at work, plus code downloads and examples accessible through the companion website. Written by practicing WordPress developers, the content of this edition focuses on real world application of WordPress concepts that extend beyond the current WordPress version. WordPress started in 2003 with a single bit of code to enhance the typography of everyday writing, and has grown to be the largest self-hosted website platform in the world. This book helps you use WordPress efficiently, effectively, and professionally, with new ideas and expert perspectives on full system exploitation. Get up to speed on the new features in WordPress 4.1 Learn cutting edge uses of WordPress, including real-world projects Discover how to migrate existing websites to WordPress Understand current best practices and tools in WordPress development WordPress was born out of a desire for an elegant, well-architected personal publishing system built on PHP and MySQL, and has evolved to be used as a full content management system through thousands of plugins, widgets, and themes. Professional WordPress is the essential developer's guide to this multifunctional system.
/ / похожие
Подробнее
Melissa Culbertson Blog Design For Dummies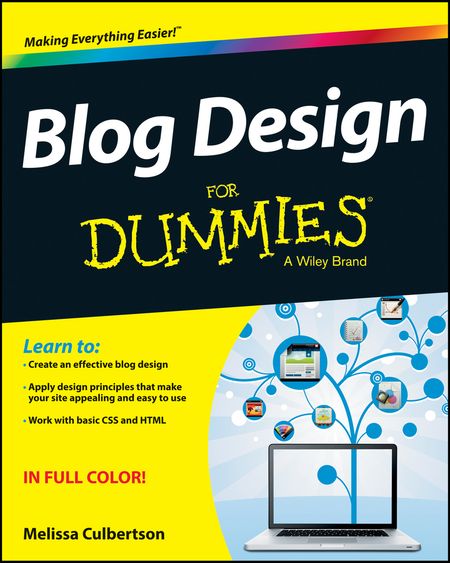 The average blogger does not typically have experience with design or coding, but that shouldn't deter them from having a professional-looking blog design. This friendly and easy-to-understand guide provides you with the tools you need to establish a creative, unique, and aesthetically memorable blog without having to learn how to code beyond some basic CSS. Whether you're looking to write for a major brand, become a brand ambassador, sell a product, acquire new clients, advocate for a cause, or simply tell a story, you'll find design tricks, helpful techniques, and invaluable advice for creating a great-looking and functional blog. Provides the tools you need to understand what makes a successful blog from a design standpoint Teaches you CSS coding that can be used to create an effective blog design that gets noticed Helps you make design decisions regarding colors, fonts, and imagery Places special emphasis on providing your readers with a site that is easy to use thanks to smart navigation Blog Design For Dummies empowers you to make smart and creative adjustments to your blog so that you can be the proud owner of an effective blog design that gets noticed!
/ / похожие
Подробнее
Rachel McCollin WordPress. Pushing the Limits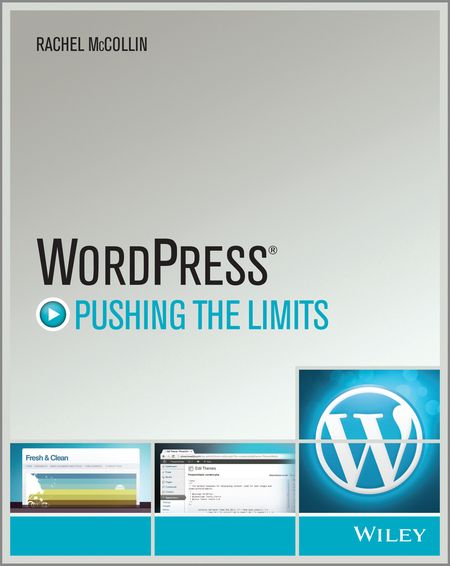 Take WordPress beyond its comfort zone As the most popular open source blogging tool, WordPress is being used to power increasingly advanced sites, pushing it beyond its original purpose. In this unique book, the authors share their experiences and advice for working effectively with clients, manage a project team, develop with WordPress for larger projects, and push WordPress beyond its limits so that clients have the customized site they need in order to succeed in a competitive marketplace. Explains that there is more than one approach to a WordPress challenge and shows you how to choose the one that is best for you, your client, and your team Walks you through hosting and developing environments, theme building, and contingency planning Addresses working with HTML, PHP, JavaScript, and CSS WordPress: Pushing the Limits encourages you to benefit from the experiences of seasoned WordPress programmers so that your client's site can succeed.
/ / похожие
Подробнее
Rachel Carson - Wikipedia
Rachel Louise Carson (May 27, 1907 – April 14, 1964) was an American marine biologist, author, and conservationist whose book Silent Spring and other writings are credited with advancing the global environmental movement.
Poliomyelitis eradication - Wikipedia
While vaccination has played an instrumental role in the reduction of polio cases worldwide, the use of attenuated virus in the oral vaccine carries with it an inherent risk.
ビューワソフトのダウンロード/岐阜市公式ホームページ
PDFファイルを閲覧・印刷するには、Adobe Reader(AcrobatReader)が必要です。Adobe Readerをお持ちでないかたは、 Adobe Reader(無償)をインストールしてください。