Susan Gunelius Google Blogger For Dummies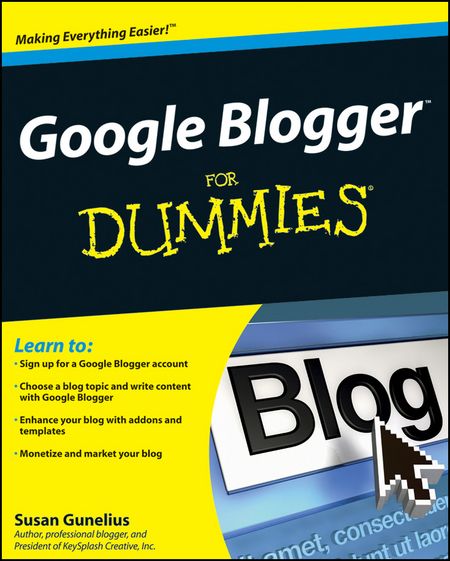 Are you bemused by blogs? Eager to become a blogger? Google Blogger For Dummies can help you start blogging sooner than you think. More than 14 million people are promoting a business, connecting with family and friends, and sharing opinions with Google Blogger. This book helps you start a Blogger account, create content, build an audience, make money from your blog, and more, all without learning to program. You'll be able to: Learn the parts of a blog, what Blogger does, and how to choose goals and blog topics Choose a domain name, learn to use the dashboard, pick a template, and configure settings Dress up your blog with themes and find out where to get plenty of free ones Learn blogging etiquette and some secrets for long-term success Make money from your blog with Google Adsense, contextual and text link ads, and merchandising with CafePress Set up multi-user blogs or branch into mobile blogging, podcasting, or video blogging Take advantage of social networking sites and learn simple search engine optimization techniques Maintain your blog with tools like Blog This! and Quick Edit Moderate comments effectively, track your stats, and more Google Blogger is a great choice for beginning bloggers, and Google Blogger For Dummies gives you the know-how to venture confidently into the blogosphere.
/ / похожие
Подробнее
Ryan Teeter Google Sites and Chrome For Dummies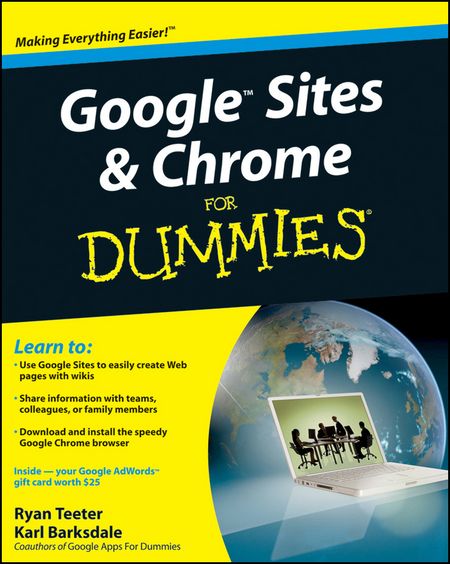 Curious about Google Sites and how team collaboration Web sites can help you share documents online from various locations? Curious about Google's new Chrome browser? Google Sites & Chrome For Dummies has what you want to know! Today, Google is so much more than another word for "search." Google Sites & Chrome For Dummies shows you how to create great collaborative Web sites with Google Sites and surf the Web with the super-fast Google Chrome browser. Find out how they work with other Google Apps, too. You'll learn to: Take advantage of free hosting, free tools, and a simple, straightforward interface with Google Sites Set up a Google account or Google Apps account Create wiki sites that let coworkers collaborate on projects or keep family members up to date Use Google gadgets to keep track of projects, manage calendars and documents, or display photos Integrate documents, spreadsheets, presentations, and other Google Apps into your site Work with Contact List, Google Talk, and Google Chat, and handle e-mail with Gmail Download and install the speedy Google Chrome browser Install browser plug-ins, enable offline access to Google Docs, and manage misbehaving tabs You'll even find instructions and examples to help you plan sites for personal and business use, plus a sample college course site. With advice from Google Sites & Chrome For Dummies, you can make collaboration easy and have the high-speed Web at your fingertips.
/ / похожие
Подробнее
Jesse Stay Google+ Marketing For Dummies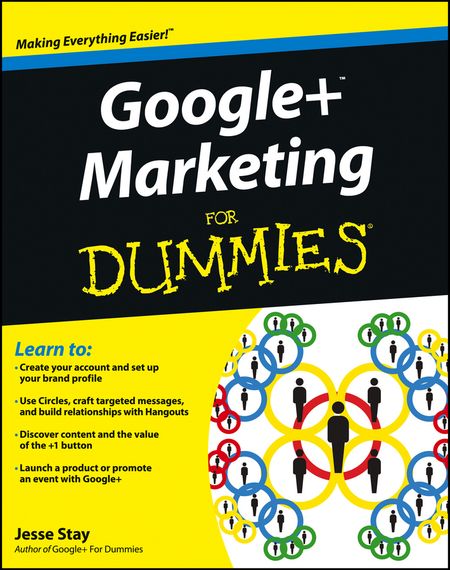 Organize customers, craft targeted messages, or host Hangouts with Google?s social network Google+ is Google's social network that has the social media world abuzz with excitement. With Google tools like YouTube, Picasa, Blogger, and Picnik being integrated with Google+, marketers will find Google+ is the best way to reach the long-time users of Google?s other tools. Google+ expert Jesse Stay shows you how to create and maximize your Google+ presence to connect with your customers. Explains how to sign up for your account and set up your brand profile Shows you how to use Circles, craft targeted messages for the Stream, and add multimedia features to your posts Helps you discover content and the value of the +1 button Shows you how to be mindful of SEO, so that your Google+ brand page can be found Addresses using Google+ to launch a product or promote an event Confidently enter the exciting new Google+ social neighborhood with Google+ Marketing For Dummies.
/ / похожие
Подробнее
Chris Dannen Google Voice For Dummies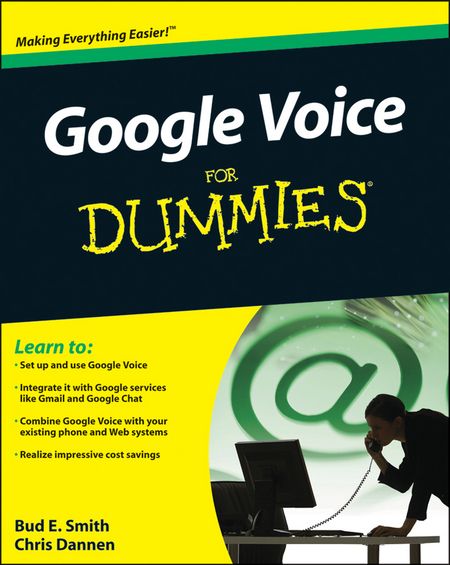 Save time and money with Google's revolutionary new phone system Google Voice combines existing phone lines, e-mail, and Web access into one central communication channel. Tech industry watchers expect it to give Skype some serious competition, yet little information is available on this new Google service. Google Voice For Dummies is the first and only book on Google's breakthrough new offering and provides essential information for individuals and businesses who want to take advantage of this exciting new technology. Google Voice is expected to have a major impact on telephony and to offer major cost savings for individuals and businesses This guide focuses on an in-depth understanding of setting up and using Google Voice and how to integrate it with other Google services, including Gmail, Google Chat, and Google Talk Discusses managing Google Voice within organizations and examines key concerns for business, schools, government, and other kinds of organizations Explains how Google Voice connects with the many phone options currently available and how to move toward an optimized and inexpensive, yet flexible and powerful phone environment The book is supported by news and updates on www.gvDaily.com, the leading Google Voice question and answer site created by authors Bud E. Smith and Chris Dannen Google Voice For Dummies supplies much-needed information on this free and exciting technology that the New York Times has called revolutionary.
/ / похожие
Подробнее
Jesse Stay Google+ For Dummies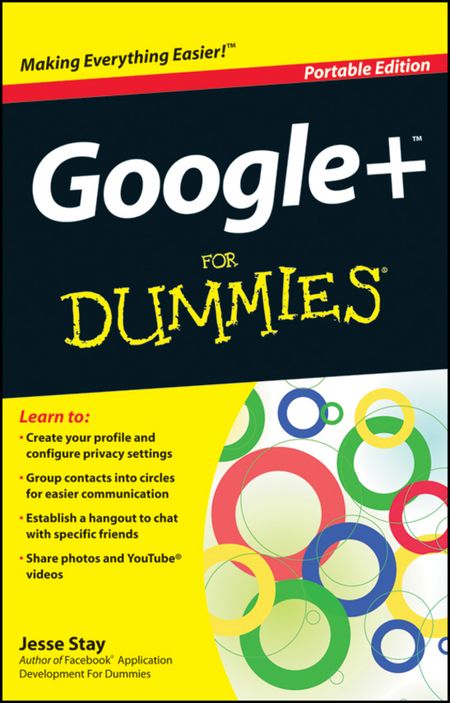 A new social network! Here's your user's guide to Google+ Google+ is Google's new social network and from day one it has had the social media world abuzz with excitement. Early fans claim it's easier to use than Facebook and Twitter and has a wealth of creative new features. If you want to learn how to navigate this new social neighborhood, take along Google+ For Dummies as your guide. Early Google+ adopter and social media consultant Jesse Stay shows you how to get started, create a profile, set up privacy settings, chat, post, control who sees what, and much more. Explains how to join Google+, protect your information, and make the most of this new social network Explores cool new features, such as Circles, which allows you to drag and drop friends into different circles Covers creating a profile, finding friends, adding people to Circles, chatting with others in Hangouts, importing photos, controlling who sees what, and more Conveys helpful information in the clear, friendly, easy-to-follow language that has defined the Dummies series for two decades Confidently enter the exciting new Google+ social neighborhood with Google+ For Dummies.
/ / похожие
Подробнее
Ryan Teeter Google Apps For Dummies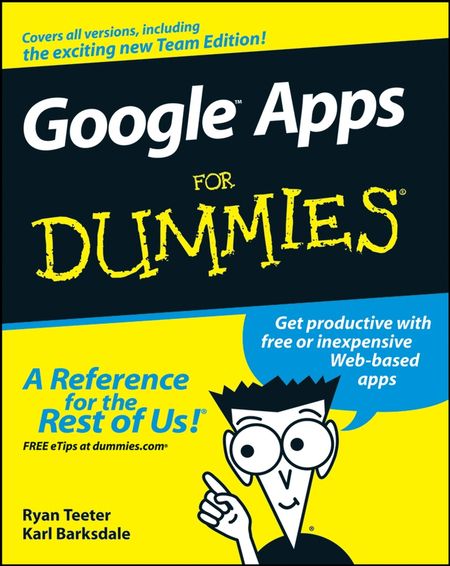 Google Apps are Web-based, low-cost (or free!) office productivity tools that do everything those expensive applications do – and you can access them from any computer with an Internet connection. Google Apps For Dummies boosts your «app-titude» by giving you the low-down on choosing, setting up, and using these nifty and powerful gadgets for work or play. Whether you're an individual who wants to take advantage of iGoogle or an organization looking for an enterprise-wide training solution for users at all levels, this comprehensive, practical guide brings you up to speed with all of the basic information and advanced tips and tricks you need to make good use of every Google Apps's tool and capability. Discover how to: Get productive fast with free or inexpensive Web-based apps Design your perfect Start Page layout Choose among the different editions Use Gmail and Google Talk Work with Google Docs and spreadsheet documents Create and collaborate on documents Import events into your calendar Build dazzling presentations Use Dashboard to create and manage user accounts Create a Web page with a unique domain setting Google Apps are poised to shatter the primacy of the current way of working with PCs, saving businesses, schools, government agencies, and individuals big bucks on software, network infrastructure, and administration. Google Apps For Dummies is your key to making this revolutionary new approach work for you and your organization.
/ / похожие
Подробнее
Susan McCullough Housetraining For Dummies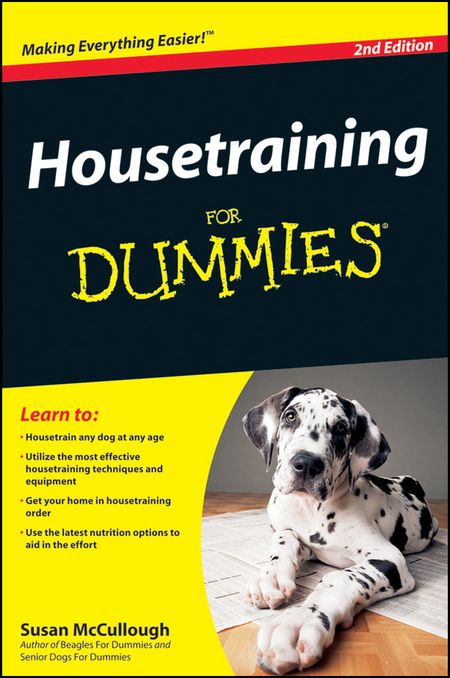 The latest information and tips on making housetraining easier for your pet and yourself Did you know that what you feed your dog can effect help or hinder the housetraining process? That's just one of the valuable tips you'll find in Housetraining For Dummies 2nd Edition, the authoritative housetraining reference for new and veteran pet owners alike. This new edition features plenty of new and revised material on everything from the latest housetraining equipment to the latest information on diet and nutrition and the crucial role it plays in housetraining. You'll also find useful tips and techniques for creating environmentally safe cleaners from natural products found in the home and alternatives you can use if you have a sensitive pet. Features the latest findings on how pet nutrition can influence housetraining success Offers proven housetraining strategies Introduces new methods for housetraining multiple pets at once Reviews new housetraining equipment and products Shows you how to make environmentally safe stain and odor removers from products already in your home Susan McCullough is a columnist for Dog Fancy magazine and the author of several books including Beagles For Dummies and the award-winning Senior Dogs For Dummies Housetraining can be a difficult and stressful process for both you and your puppy, adult, or senior dog. Housetraining For Dummies 2nd Edition is the resource you need to make it faster and easier for both of you.
/ / похожие
Подробнее
Aidan Chopra Google SketchUp 8 For Dummies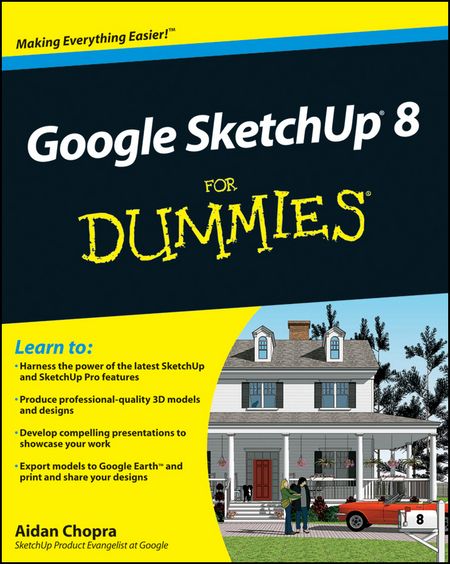 Go 3D with Google's exciting architectural design software for Mac and Windows Whether you need to learn 3D modeling for business or you're just eager to see what you can create, Google SketchUp and Google SketchUp 8 For Dummies are for you. Available in both a free hobbyist version and a full-featured professional version, SketchUp explodes the myth that 3D modeling software must be complicated to learn and use. This book will take you step by step through downloading and using both versions on both Mac and Windows. There are even video walkthroughs on the companion Web site. Google's exciting 3D modeling software offers hobbyists as well as architects, engineers, and industrial designers a less complicated tool for architectural rendering, urban planning, set design, game design, and other uses This guide explains both the free and professional versions for both Windows and Mac Covers the basic concepts of 3D modeling and how to build a 3D model, print or share your work online, export your drawing to another design package or Google Earth, and create a detailed set of plans Companion Web site features video walkthroughs Google SketchUp 8 For Dummies gets you up and running with 3D modeling quickly and easily.
/ / похожие
Подробнее
Dan Gookin Nexus 7 For Dummies (Google Tablet)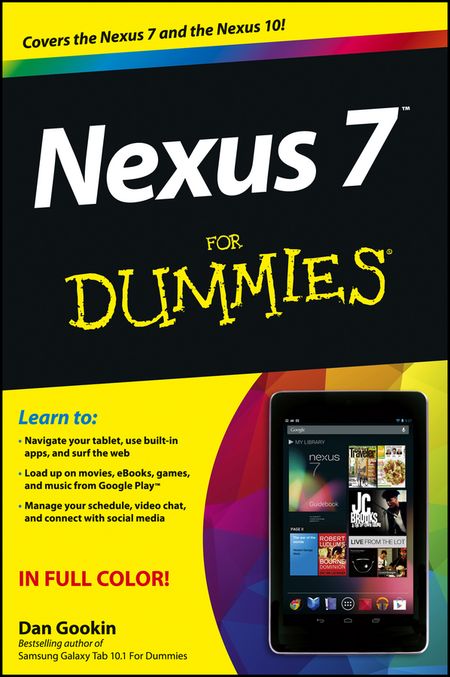 Friendly advice on leveraging the power of the new Nexus 7 Google tablet! The arrival of the new Nexus 7 Google tablet is eagerly awaited, thanks to its cutting-edge software, top-notch hardware, unprecedented abilities, and nine-hour battery life. This easy-to-understand, engaging guide covers everything you need to know about this amazing Android tablet. Bestselling Dummies author Dan Gookin uses his friendly writing style to deliver clear instructions for setting up, navigating, and using the device. You'll learn to use all your favorite Google applications that come loaded on the device, personalize it, and much more. Walks you through the touchscreen, wireless access, and software updates Demonstrates how to download, shop for, and fill your Nexus 7 with movies, e-books, games, and music Helps you keep on top of your schedule and appointments and pursue your interests and hobbies with the latest apps and websites Offers guidance on using your device to navigate from here to there and stay connected with friends and family while you're away Nexus 7 For Dummies is an essential companion to your other new companion: the Nexus 7!
/ / похожие
Подробнее
Susan Gunelius - Google+
Press question mark to see available shortcut keys. Discover. Join Google+
Google Blogger For Dummies: Amazon.de: Susan Gunelius ...
Bücher (Fremdsprachig) Wählen Sie die Abteilung aus, in der Sie suchen möchten.
Google Blogger For Dummies (English Edition) eBook: Susan ...
Google Blogger for Dummies will be written for the core Blogger user community - beginner bloggers. It will start with the basics of blogging describing what blogging is, the pros and cons of blogging, choosing a blog topic and so on.
Google Blogger For Dummies - Susan Gunelius - Google Books
Susan Gunelius is President and CEO of KeySplash Creative, Inc., a full-service marketing communications provider. She is also a professional blogger and seasoned marketing and branding expert with two other books to her credit.
Google Blogger For Dummies by Susan Gunelius
Another book in the series "For Dummies" written by Susan Gunelius Me a dummy, I couldn't pass on this book. I've been searching for a book on blogging and here it was waiting for me at the library.
Google Blogger For Dummies by Susan Gunelius - Books on ...
Google Blogger For Dummies - Ebook written by Susan Gunelius. Read this book using Google Play Books app on your PC, android, iOS devices. Download for offline reading, highlight, bookmark or take notes while you read Google Blogger For Dummies.
Google Blogger For Dummies eBook von Susan Gunelius ...
Lesen Sie "Google Blogger For Dummies" von Susan Gunelius mit Rakuten Kobo. Are you bemused by blogs? Eager to become a blogger? Google Blogger For Dummies can help you start blogging sooner than ...
Harry Potter - Google Books
The Harry Potter books are some of the bestselling books of all time. In this fascinating study, Susan Gunelius analyzes every aspect of the brand phenomenon that is Harry Potter.